Meet Carolyn Bunt
Receptionist
I have many years' experience juggling all the aspects of a Receptionist's duties while maintaining a high degree of efficiency and professionalism when it comes to taking care of clients. I am the first pleasant, happy face you will see when you walk through our doors.
I ensure that all our client enquiries are answered in a timely professional manner, either by me, or they will be re-directed to other staff who can assist further, leaving the client happy and satisfied with the outcome.
At PTAM we work entirely in the cloud, and this means that all our systems that are easy to use, not only for our Team but our clients as well.
I have gained a lot of experience working at PTAM. Using the latest technology and apps on a daily basis, this has given me the opportunity to develop new skills, as well as enhance the skills I already had.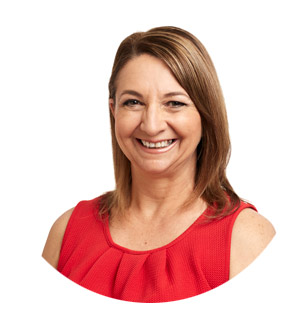 What do you like about working for PTAM?
Even though I have only just started , the way Peter and Kelly have made me feel comfortable and part of the team is amazing. I'm looking forward to meeting all of their clients, new and old, and helping where I can. My goal is to develop new skills, as Bookkeeping and Accounting is something I am really interested in learning more about.
What do I enjoy doing in my spare time?
At the moment I am enjoying helping my husband renovate our house, in between looking after our beautiful children. When I am not busy doing house work or renovations, I enjoy going to the beach, gardening and going for walks around the lake. You can also often find me playing on the floor pushing trains around a track, playing with Lego or doing Arts and Crafts with my kids.
What pets do I have?
I have 2 cats, Missy and Willow, 2 chickens, Rosie and Rainbow. In the near future we are looking at getting a puppy, so it's going to be a very full house soon.
Have you always worked as a Receptionist?
No. I have previously worked as a Receptionist, but I have also worked as a Checkout girl, Cleaner, and as a Child Care Worker.
How long have I been in this role?
I'm just new, and LOVING it.
What music do I enjoy listening to?
I love anything that has a good beat, and that is good to dance to and sing to (although I 'm not really good at either).
Don't Be Shy
If we haven't answered all of your questions, feel free to drop us a line anytime.