We're WorkflowMax Certified Advisors
At Precision, we are one of those trusted users and we are proud to be WorkflowMax advisors. As a cloud project management software, WorkflowMax contains everything you need to manage your workflow, particularly in the building and construction industry.
5000+ businesses worldwide trust WorkflowMax!
WorkflowMax is awesome, here's why…
WorkflowMax's cloud project management software contains everything you need to manage your workflow — in one integrated platform.
Just like Xero you can access anywhere, anytime – 24/7 access from any internet connection in the world (even via your iPhone or other mobile devices).
Track your leads, sales pipeline, and proposals in one place.
Create professional quotes and link them to your jobs with this clever project management tool.
With time sheets and project planning software, you can instantly see how long a job has taken, and who did it.
Use the project management dashboard to see all your jobs in one screen and keep your eye on deadlines.
With online project management, you can see job profitability at a glance and figure out if you're in the black.
Use collaboration and project management tools to share notes and emails on a job with your team and clients.
Track your orders to each job, so you can add them to your invoice with one easy click.
Calculate and brand your invoice however you like, and save time with bulk invoicing.
Dig deep into your project management system and discover trends in your business that you can utilize to increase profit.
Designed for Architects, Building and Construction, Engineers & Surveyors, Agencies & Creatives, IT & Consulting and Small Business where managing projects are part of life.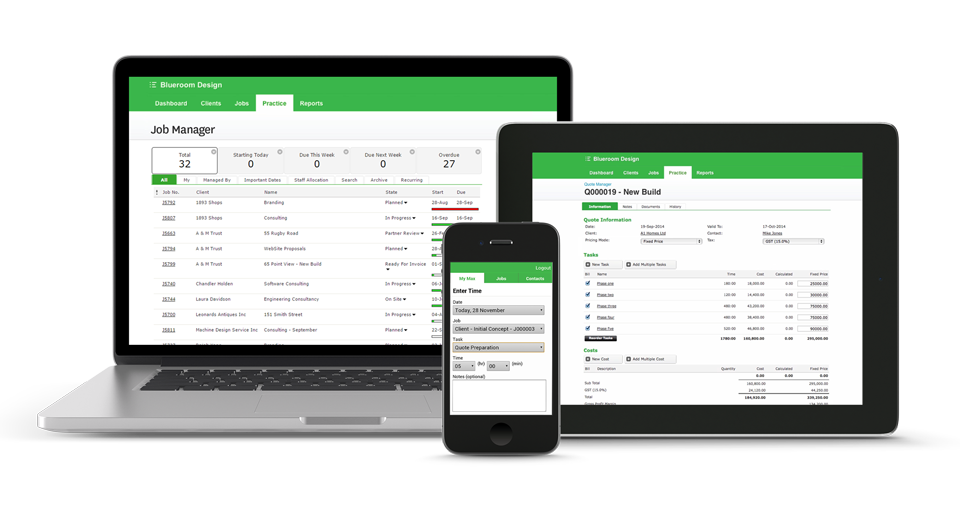 Learn more about Workflow Max
Say goodbye to paperwork, messy spreadsheets, time-consuming admin tasks, and many other hassles of running a business.
From leads to quotes, to time-tracking, all the way to invoicing – our all-in-one, cloud based job management software will take the pain out of running your business.
Join the Conversation
If we havn't answered all of your questions, feel free to drop us a line anytime.