Smart Job Management
At Precision, we are proud to be ServiceM8 advisors. ServiceM8 is a cloud-based Job Scheduling and Invoice Management tool, designed for trades and service-based industries to help eliminate paperwork, improve productivity and provide exceptional service.
ServiceM8 guides users from creating job quotes to invoicing and payment collections and provides real-time information on what jobs are active, what quotes you have issued, and where and when employees are on site.
ServiceM8 is the perfect software for small business, integrates with Xero, Quickbooks and MYOB and allows you to manage all of your jobs efficiently, whether in the office or on the go with your iPhone / iPad
As an award-winning, no-nonsense accounting firm that specialises in the building and construction industry, Precision is proud to be ServiceM8 Certified Partners.
It is ideal for any service-based industry, such as:
Plumbers
Electricians
IT Consultants
Locksmiths
Cleaners
Maintenance and Service Technicians
ServiceM8 helps you by offering the following features:
Job Management
Access all client and job details from the field, anywhere, anytime. Field staff have all the info they need to get the job done.
Job History
Access a full history of work done for every client, including notes, photos, emails, and messages – anywhere.
Checklists & Tasks
Use checklists and task lists to ensure the job is right the first time, every time.
Capture Photos & Video
Take photos and record videos from within ServiceM8, and they're saved instantly to the job, forever.
Capture Signatures
Record proof that your customer is happy to proceed with a job or pay for completed work.
Dispatch Map
Quickly see where your staff are and what they're doing, in real-time.
Integrated Navigation
Get directions to the job site in two taps – staff won't ever get lost again!
Drag-and-drop Scheduling
Simply drag new jobs onto the desired time and staff member to schedule them.
Access Anywhere, Anytime
Access to your business's full job schedule wherever you are.
Schedule Updates
Employees will receive instant notification of any changes to their schedule.
Allocation Windows
Allocate flexible jobs to a booking window rather than a specific time.
Instant Dispatch
Instantly dispatch urgent jobs by dragging the job directly onto the desired staff member.
Job Reminders
Automatic alerts remind you when to leave for your next booking, so you're always on time. It even calculates travel time.
External calendar import
Import external calendar appointments from Google Calendar, Office 365 or other iCal-compatible calendars, for each staff member.
Booking suggestions
ServiceM8 will suggest booking times, which take into account staff schedules and leave and allow for travel time from previous jobs.
SMS Booking Links
Easily coordinate booking times using SMS Booking links. Text, the link and clients, can choose a time that works for them & your business.
Easy Invoicing
Create professional invoices in seconds, then email, text, print or even post them to your client while you're still on site.
Quotes
Create and manage quotes, and quickly turn them into invoices once the work is done.
Online Quote Acceptance
Allow your customers to view and accept your quotes online.
Beautiful Templates
Select from a range of beautiful and professional template designs, which will include your logo automatically.
Customizable Templates
Build your quote or invoice templates exactly how you want them, with almost unlimited possibilities.
Quote Options
Produce several quote options and issue them to the client for online consideration and acceptance.
Mobile Credit Card Processing
Simply type in the client's credit card number and charge them on site. You'll process the transaction then and there.
Online Invoice Payment
Email your customers an invoice that they can pay online via credit or debit card, or Apple Pay.
Apple Pay Support
Online bookings & invoices can also be paid via Apple Pay, Google Pay or Microsoft pay, making it easier to get paid.
Email and Message Clients
Email and message clients directly from the ServiceM8 app.
Customer Replies
See all client communication on jobs, with customer reply emails automatically synced to ServiceM8.
Email & Text Templates
SMS and email templates save time and provide a consistent, professional message to clients.
On-the-way Message
Automatically SMS clients to notify them you're on the way to the job, with an estimated time of arrival.
Activity Feed
Communicate with all staff using a live activity feed – update everyone on housekeeping matters, ask advice or share tips and tricks.
Real-time
See real-time updates of job progress on site.
Powerful Mobile App
The ServiceM8 app has effective communication, navigation, quoting, job management and invoicing capability, tailored for ease of use in the field.
ServiceM8 for Apple Watch
Receive and reply to staff messages from your wrist, keep track of how long you've been on-site, and view job details at a glance.
Offline Access
Field staff can access all job information without internet connectivity, and any updates will automatically sync when connectivity is restored.
iPhone & iPad
Software designed for specific hardware means the app provides a seamless experience on both your iPhone and iPad.
Barcode scanning
When adding materials to invoices, you can select Barcode Scan. Just hold the camera over the barcode, and it will instantly scan.
Siri Shortcuts Support
Ask Siri for ServiceM8-related information, to perform specific tasks in ServiceM8, or open ServiceM8 directly to a particular view.
Apple Exclusive
Solely focusing on the Apple platform means a fast, high quality and reliable app which keeps pace with your business.
Document scanning
ServiceM8 will auto-detect and focus on a document, and once captured, crop the image to save to the job in a high-resolution PNG format.
AI Photo Tagging
The ServiceM8 camera's field of view is analysed in real-time, and the captured image automatically tagged, e.g. 'Smoke Alarm', 'Switch', 'Shower'.
Latest iOS features
We take advantage of iOS feature updates faster, keeping the app and your business at the cutting edge of modern field service technology.
Voice photo tagging
Say "Tag Before Job" or "Tag After Job" before photo capture, and it will automatically apply the tag to that photo and any that follow.
AR Measure
Take measurements in virtual reality using the ServiceM8 camera, then apply them when developing quotes or completing forms.
Produce Professional PDF's
Create customized forms and reports to suit your business needs, such as inspection reports, certificates of compliance and safety assessments.
Simple to Complete
Simply working through a list of questions, staff can generate comprehensive and professional PDF reports while on site.
Easy to build
Build forms in ServiceM8's online editor.
Flexible Question Types
Flexible question type options, photo questions, multiple choice, signature and more.
Conditional Question Skipping
Make your forms faster to complete but skipping questions that are not needed.
Form Checklist Item
Make forms a checklist item, so staff don't forget to complete them.
Endless Possibilities
Build checklists, safety audits, site reports, inspections reports, industry certificates and more.
Automatically Stored, Forever
All forms, certificates, reports and documents get saved to the job diary for future reference.
Form Store
An online marketplace of ServiceM8 Forms, where you can browse and buy Forms for your business.
Create New Assets
Create client-owned assets or equipment and save their location on site.
Complete Forms
Methodically complete installation, maintenance or inspection forms on assets with the Forms Add-on.
View Service History
Open past forms against an asset, and view previous responses to the same Form questions.
Asset Register & Service Reports
Generate PDF reports of all assets serviced on a job, or of all assets listed against a client.
Locate in Augmented Reality
Scan one asset's QR Code to view & locate all others on site in Augmented Reality.
Customer Asset Portal
Customers can scan asset QR Codes to view details & report an issue online.
24/7 Online Booking System
Enable customers to book your services online, day or night. Customers can request a quote or service, select a time, then book it straight into your schedule.
Intelligent Quoting
Teach ServiceM8 how you price your services. Answers provided by customers while filling out the form determine the price they're quoted.
Smart Scheduling
Set which staff are capable of performing a particular service. ServiceM8 analyses their schedules when presenting possible booking times to customers online.
Deposits & Pre-Payment
Accept pre-payment as part of the booking process via card, Apple Pay, Google Pay, or Microsoft Pay.
Flexible Outcomes
Create general enquiry pages, on-site quote requests, or complete service booking forms for customers.
Facebook & Google
Track visits and conversions of your Booking Pages from sources linked to Google or Facebook tracking IDs.
ServiceM8 Knowledge
Capture your business knowledge. Record & save business expertise, tips & procedures in the form of Videos or Articles.
Accessible in the Field
Staff can search for videos & articles in the app to troubleshoot jobs. Knowledge will be automatically suggested in new jobs if relevant.
Knowledge Sharing
When you or your staff take the time to capture & share knowledge, it will be posted to your ServiceM8 Activity Feed for other staff to see.
Customer Feedback
The easiest and fastest way to collect feedback about your business and service.
Automation
Automate communication with your customers. Automatically follow up quotes, send booking reminders, or request invoice payment.
Convert Emails to Jobs
Convert email enquiries into new jobs with a single click. All information and attachments are saved straight into the job diary.
Recurring Jobs & Reminders
Simplify the management of repeat work and contracts. Create a job once and schedule it to recur at set intervals.
Auto-schedule recurring jobs
You can set ServiceM8 to routinely and automatically process and schedule all recurring jobs.
Job Costing
Quickly gauge how profitable a job will be while you're quoting, then see how much you made after the job is complete.
Margin Billing
Quickly set material and labour prices based on their cost plus a percentage margin.
Supplier Invoice Importing
You can have supplier invoices emailed directly into a job, where you can add the cost straight to your invoice.
And many more
ServiceM8 has many add-ons that extend functionality in specific areas or assist certain industries.
Job Reports
Built-in and automated reporting on your business. See jobs by category, job status, backlog and win/lose rates, all at a glance.
Revenue Reports
Know your numbers and monitor your cash flow with reports on invoicing, job profitability, revenue by job category, and total revenue.
Feed Reports
Receive daily and weekly reports on job status, invoicing status and productivity, delivered directly into your activity feed.
Custom Reports
Create your reports on jobs, revenue and profitability with the built-in report builder.
Job Data Export
Export data from your ServiceM8 account and generate custom reports of your own.
Leading Accounting Packages
Sync clients, items, invoices, and payments with your accounting package to prevent double entry and reduce administration efforts.
MailChimp – Email Marketing
Daily syncing of all client emails in ServiceM8 with your MailChimp mailing list – just set and forget.
Zapier – App Integrator
Build customised connections between ServiceM8 and over 500 other supported apps.
Workato – App Integrator
Build customised connections between ServiceM8 and over 150 other supported apps.
Deputy – Staff Management
Staff clock-on and clock-off times are recorded automatically in Deputy as timesheets.
Open API & SDK
Our Application Programming Interface (API) allows developers to connect ServiceM8 to third-party apps or software.
Automatic Backups
Your account is automatically backed-up to cloud-based ServiceM8 servers in multiple locations around the world.
Class-leading uptime
Our platform was built from the ground up to have enterprise-class reliability.
Bank-grade Security
ServiceM8's servers are secured by SSL Certificates issued by Amazon, so all data transferred between users and ServiceM8 is encrypted.
iPhone and iPad Data
If one of your devices is lost or stolen, all data on your iPhone or iPad is encrypted.
Email & Chat Support
Fast advice and answers to your questions with free email and live chat support.
Learn more about ServiceM8 here or Join the conversation… to find out we can use our expertise in the Building and construction industry and our ServiceM8 advisor status to implement this software for your business.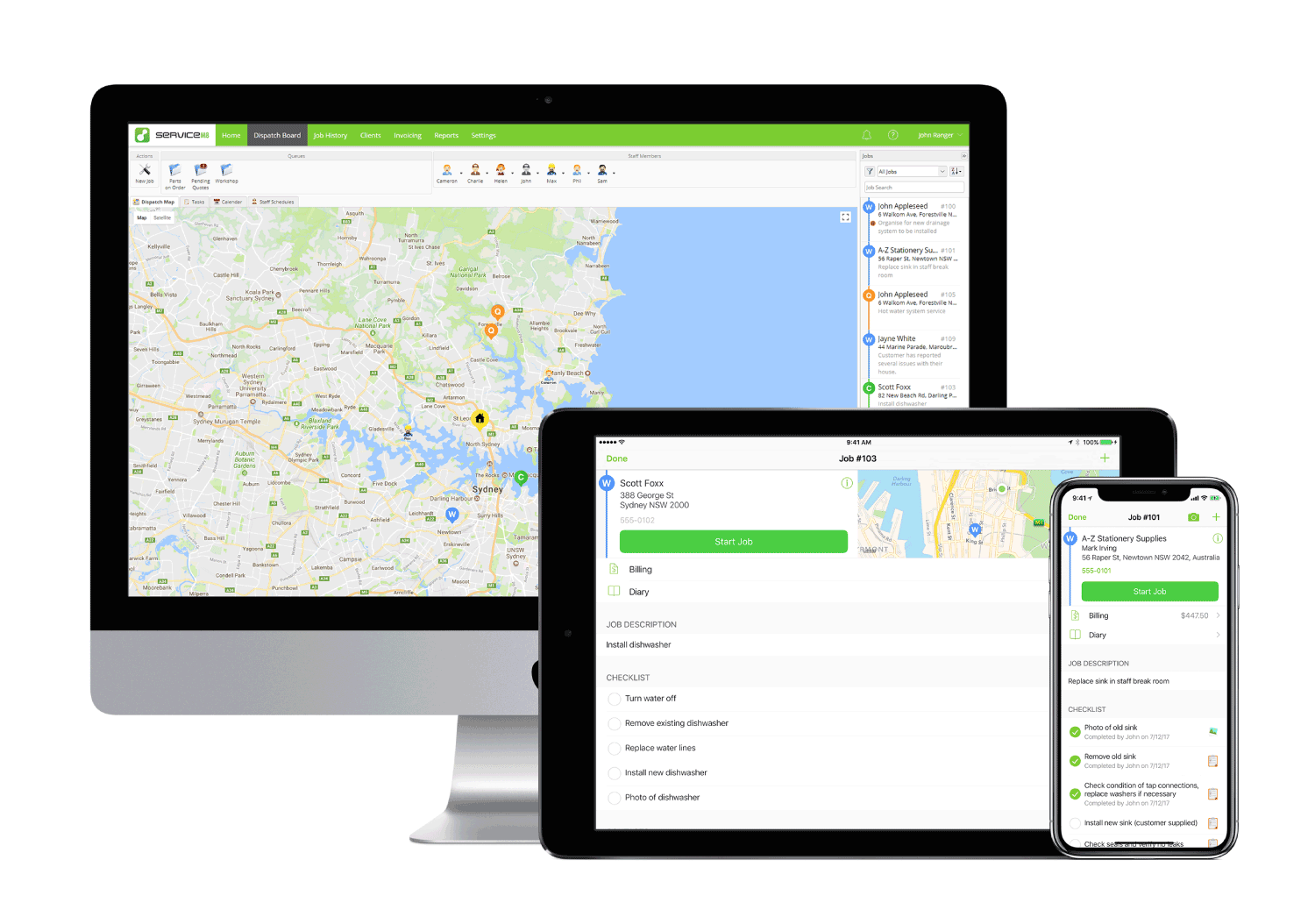 Learn more about ServiceM8
Say goodbye to paperwork, messy spreadsheets, time-consuming admin tasks, and many other hassles of running a business. From leads to quotes, to time-tracking, all the way to invoicing ServiceM8 is a cloud based application that will automate your business and take away the pain of running it.
Don't Be Shy
If you would like to know more about ServiceM8 please feel free to get in touch and Join the conversation…