It might seem strange to kick off this story with a sign that reads #BossBitch… However, what does #BossBitch mean?
After overcoming the risks and challenges of starting a new business, and having survived the crucial first couple of years, attention usually turns to growth, right? Winning new business, exploring new markets, and expanding the customer base are all exciting parts of the next phase for any business. But this next stage brings a new set of challenges and risks. How do you scale it up without screwing it up? This challenge is something PTAM are experiencing right now and it is very exciting!
For a business to be able to scale up effectively there are a lot of moving parts that need to be handled to make sure it all comes together. Improving customer service systems, efficiency and productivity are things that are rarely far from my thinking and over the last 12 months, PTAM have implemented several strategies to ensure we can improve and deliver.
Having been an admirer of David Allen and his Getting Things Done productivity theory for many years and given that at PTAM we are always very open about our strengths and weaknesses, it is no surprise that if you google what the most organised and productive people do every day, it's clear that Kelly does all of these things and more. Sometimes I think she may have ghost written some of these books. Whether it be meeting with clients, assessing their needs, or implementing tax planning strategies, Kelly will get the job done.
So, this brings me to some exciting news about another step forward.
Kelly Eke will be PTAM's new Chief Operations Officer, and I could think of no better person to fulfil this role than her.
She is perfectly placed to work with the entire team at PTAM to set the firms direction and enhance our client's experience because as she has shown over many years, if it needs to be built, she will build it. Kelly has nearly 15 years' experience in the accounting and taxation world taking care of Clients' needs.
She is pretty good at it too, so being a finalist in the Lake Macquarie Business Excellence Awards for Excellence in Customer Service by an Individual was no surprise to me but as her employer, an honour to see this public recognition. For those of you dealing with Kelly at PTAM, it may come as a surprise for you to know that she is naturally a very shy person. However since receiving this important professional recognition she has been given the confidence to further excel in her work and to pursue excellence for all levels of the business. So it is a win for PTAM.
"Wow. When you told me you would call me back and keep me updated, my first reaction was yep, no worries, that's what my last accountant said. I've heard that before, but I didn't expect to hear from you as often as I did. You kept me updated and gave me the information to keep my mind at ease and saved me worrying. I didn't think it would be this easy, you are a life saver!" – Vince
Kelly always puts our client's needs front and centre and is always working to stay one step ahead of what is needed. She enjoys building strong relationships with clients by listening to their needs and then building a solution to deliver their desired outcomes. She embraces the PTAM style of "telling it like it is" and this ensures that our clients know what is going on. This passion for customer service, friendly yet straight forward style are some of the reasons why our clients trust Kelly with their business.
"If something needs to be done, Kelly will get it done. It doesn't matter what it is or when it needs to be completed, she will make it her mission to have it resolved. There has never been an issue that Kelly hasn't completed with a smile.
She is always able to explain the most complicated things in a way anybody can understand. There is the technical way of explaining it and then there is the Kelly way of explaining it. It always makes sense". – Samantha 
From the point at which first conversations are started, whether with a client or another team member Kelly will seek to know exactly what it is you are after. This allows her to develop strategies to ensure that the Team can deliver and meet the expectations.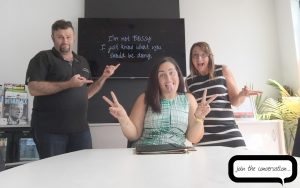 #DoYourJob and #GetShitDone are concepts that Kelly lives and works by. She is not afraid to get her hands dirty when needed. Whether it be setting policy for PTAM practices, finding solutions including workplace initiatives and research and implementation of new software to benefit us and our clients, Kelly can do it all.
As the Chief Operations Officer for PTAM, Kelly will be taking a greater involvement in delivering projects to our clients. She will often be the person that will guide you through your engagement with PTAM. She will be the person that makes sure we are all on the same page and will be checking in with you from time to time to see whether our Team can do more to help you.
Behind the scenes, Kelly will use her many qualifications as well as her commitment to high level customer service to help PTAM provide greater efficiencies, policy development and a greater client experience.
"In all my years of working in a variety of different areas. I have never seen a more diligent, cheerful and dedicated worker as Kelly. It is not uncommon to see Kelly, take time out of her busy schedule to assist a client with an enquiry to make them feel comfortable and at ease. She is also very quick to lend a hand or explain things to work colleagues in a way that you understand. Having someone like Kelly in your workplace makes it a pleasure to come to work every day."  – Carolyn
So, as we continue to expand with new business, new markets, and a greater customer base we need to be more organised, productive, and better equipped to continue delivering an awesome experience.
At PTAM I feel very lucky because the solution is already in house and there is nobody I would trust in delivering a greater experience for our clients more than our new Chief Operations Officer, Kelly Eke.