It was a big Saturday night for Team #PTAandM as we celebrated amongst all the finalists in a packed-house at Belmont 16's for the 2017 Lake Macquarie Business Excellence Awards #LMBEA.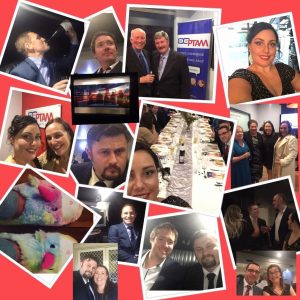 To be finalists in this year's awards was in itself a huge honour. Given that there are over 13,500 businesses in Lake Macquarie, to be nominated in 3 categories; Excellence in Branding and Marketing, Excellence in Business Practices and Excellence in Customer Service by an Individual – Kelly Eke, has truly been a high point of the year for PTAM and me personally. We didn't come away with a win but when considering the competition and the pursuit of excellence shown by the businesses competing in our categories, it was always going to be tough.
Excellence in Branding and Marketing
Hunter Plastic Surgery – Charlestown
Classic Blinds and Shutters – Cardiff
JettProof – Gateshead – WINNER
Precision Taxation Accounting and Management – Warners Bay
Excellence in Business Practices
Precision Taxation Accounting and Management – Warners Bay
Mega Save Chemist – Charlestown
KENT Conveyancing – Boolaroo
Academy Sheetmetal – Cardiff – WINNER
Excellence in Customer Service by an Individual
Mark Lantry – Dynamic Business Technologies – Cardiff
Jessica Laing – Hunter Plastic Surgery – Charlestown – WINNER
Nathan Hookway –Zimpleweb – Charlestown
Paula Needs –Endeavour Group Australia – Fennell Bay
Kelly Eke – Precision Taxation Accounting and Management – Warners Bay
Brett Gleeson, the former General Manager of the Business Growth Centre said earlier this year that the the very act of participating in the awards, win or lose would be of tremendous value to any business. He was correct.
The entire journey, from initially investigating the possibility of entering the awards through to the Awards Gala Dinner has forced me to focus on what PTAM does well and at the same time, where it can improve. Business owners don't often have the opportunity, nor are they forced, to really drill down into what are the things that make their business what it is. For me, this introspective has been well worth the effort. I now know more about where PTAM can improve and I also know where we are perhaps performing better than our competitors. I would never have known these things had I not been a part of a process that required such an honest self assessment.
I think this has been one of the best part of the awards experience for me. I am sure all business owners can relate to the experience of the daily grind. We think we are running our businesses well, we think we know what we are doing and that we have a handle on everything but when you are caught in the whirlpool of day to day business it is incredibly easy to miss things that are crucial and it is very difficult to stop and look at what you are doing.
There were a few awards categories that I thought we could enter but on further investigation, it became obvious that we were perhaps not yet ready to compete in these areas. Does this mean we were not good enough to compete? Who knows? The old saying, you have to be in it to win it rings true. But more importantly it was clear to me that I didn't think that PTAM was strong enough in those areas. Not just for awards purposes but for the business as a whole.
So as strange as it may sound, one of the best parts of the awards experience for me was deciding not to enter an awards category in 2017.  Rather, I used the introspective as an opportunity to consider where the business can be stronger, more successful and a better place for our whole Team to come to work. I don't think I would have begun implementing the changes to make this happen had it not been for the awards process.
Again, Brett Gleeson was right. I would also strongly recommend any business owner to enter or at least consider entering the awards for 2018. You never know what you may learn about your business or yourself.
PTAM has also received great respect and encouragement from our competitors and it is a huge honour to be seen as an equal amongst other business owners. Personally and as a Team, we have developed connections with other businesses throughout the journey and these are connections that will provide what I am sure is going to be long term mutual benefits.
At PTAM "we tell it like it is" and "we don't sugarcoat it" so anytime the opportunity for a little bit of competitive banter is on the cards, we are up for it. There has been plenty of this over the last few months and we look forward to more of the same next year.
For me, the Awards Gala Dinner was an opportunity to celebrate our success with our family, friends and clients. I was especially honoured to present the award for Excellence in Not for Profit / Charity on behalf of PTAM to  Centre for Hope – Windale.
In typical PTAM style we documented the night as it unfolded on Social Media, the good, the bad and the ugly on Facebook, Instagram and Twitter. The pics don't lie, we had an awesome night!
So congratulations to all the winners, they are truly deserving of the recognition (but next year belongs to PTAM!) I would like to thank our clients, family and friends for their ongoing support and hopefully next year we come away with a win.