Look at how far we have come!
On Saturday 28th July, Team #PTAandM along with our family, friends and clients celebrated our success including winning Business of the Year amongst all the finalists at the Belmont 16's for the 2018 Lake Macquarie Business Excellence Awards #LMBEA.
One year ago, after being named as finalists in three categories, yet coming away from our first #LMBEA without a win, I wrote an article about the importance and value of the awards process to any small business.
I ended that article with this:
"So, congratulations to all the winners, they are truly deserving of the recognition (but next year belongs to PTAM!) I would like to thank our clients, family and friends for their ongoing support and hopefully next year we come away with a win."
Well, I think we made good on that statement!
Being named as finalists in this year's awards was itself a tremendous honour. Given that there are over 10,000 businesses in Lake Macquarie, to be named as finalists in five categories; Excellence in Work, Health and Safety, Excellence in Digital Technology, Excellence in Customer Service by an Individual – Kelly Eke, Young Business Executive of the Year – Kelly Eke, Excellence in Small Business (-20). As well as being nominated by the judging panel for Business of the Year, this has been without doubt, the high point of my professional career.
When considering the competition and the pursuit of excellence shown by the businesses competing in these awards, it was going to be tough to come away with a win.
Business of the Year – Major Award
Precision Taxation Accounting and Management – WINNER
Excellence in Work, Health, and Safety – Major Award
Precision Taxation Accounting and Management
Charlestown Caring Group Incorporated  – WINNER
Young Business Executive – Major Award
Precision Taxation Accounting and Management – Kelly Eke
A Growing Understanding – Lauren Haskins
Remondis – Gunther Neumann – WINNER
Excellence in Customer Service by an Individual
Precision Taxation Accounting and Management – Kelly Eke – WINNER
KENT Conveyancing – Michelle Kent
Carnelian Property Management – Natalia Doolan
Dynamic Business Technologies – Zachary Gobbo
Excellence in Small Business (-20 Employees)
Precision Taxation Accounting and Management
Mama-P Health Foods – WINNER
Excellence in Digital Technology
Precision Taxation Accounting and Management – WINNER
I think that part of our success in this year's Awards was motivated by our losses in 2017.
The founder of Nike, Phil Knight when talking about the constant pursuit for excellence, said; "It's not just that there's no finish line; it's that you define the finish line."
We could have resigned to the idea that we were Finalists in 2017 and that this achievement itself was amazing, but we had not yet reached our finish line.
I said last year that the very act of participating in the awards, win or lose would be of tremendous value to any business. This is something I stand by.
Following the 2017 awards, we developed a comprehensive Business Improvement Strategy to make sure that we were focusing on expanding on the ideas, programs and things we know we do well. But more importantly, the business improvement strategy gave us an opportunity to work on creating a stronger, more efficient and meaningful business. This was perhaps the best outcome from the 2017 awards process.
Our business improvement strategy provided us with a structure to look at everything we do from multiple perspectives, and the comfort to say, "We are not there yet" or "Not good enough".
As a fan of reality TV, "The Journey" or more appropriately, documenting "The Journey" is a concept that I embrace and share with the Team.
The awards process from beginning to end forces me to focus on what Precision does well and at the same time, where it can improve. Business owners don't often have the opportunity, nor are they forced, to really drill down into what are those things that make their business what it is. For me, this introspective has been well worth the effort. I now know more about where Precision can improve and I also know where we are perhaps performing better than our competitors. I would never have known these things had I not been a part of a process that required such an honest self-assessment nor would I have truly assessed how we could demonstrate this to ourselves and others.
Having the opportunity to hold a mirror up to your business and be brutally honest about your successes and shortcomings can only make a better business in the end.
Every Tuesday our Team participates in a walking Toolbox meeting. It certainly helps when you have the beautiful Lake Macquarie as your backdrop to discusses amongst other things, our Weekly Achievements. Perhaps we gained a new client. Perhaps we launched a new workplace program or maybe we received some public feedback.
At Precision our corporate culture is one of our cornerstones. "At Precision, we believe that hard work and loyalty brings success and that success should be rewarded and celebrated. It's not just about celebrating the big things, but all the little victories along the way."
Our successes are documented and celebrated, and our shortcomings are always considered as opportunities to revise our strategy.
The last twelve months has been the most rewarding period since commencing Precision in January 2014. We have seen our CARE with Precision program become a workplace program that I am extremely proud of.
We have experienced enormous growth and have continually improved our Customer Service and Digital processes. Our level of community engagement has expanded, redefined our profile and have made sure that we take some time out for ourselves.
As every business owner knows, it is not all smooth sailing. Employees offering so much potential have come and gone. Some in spectacular fashion (one day I am writing a book about it). Despite our many wins, we have fallen short on some of our goals and been frustrated when others have seemed out of reach for now.
All business owners can relate to the experience of the daily grind. We think we are running our businesses well, we think we know what we are doing and that we have a handle on everything but when you are caught in the whirlpool of day to day business it is incredibly easy to miss things that are crucial, and it is very difficult to stop and look at what you are doing.
Things need to get done. It is as simple as that. Whether it be cleaning the office, designing media, managing the problems of above-anticipated growth, premises issues, all while doing your own job and servicing customers, the life of any small business owner is a struggle with NO off switch.
Ben Horowitz, the author of The Hard Thing About Hard Things said it best. "Life is struggle. I believe that within that quote lies the most important lesson in entrepreneurship: Embrace the struggle."
The struggle is never ending just like the finish line, but it is the struggle that presents the opportunities to grow.
But as the journey continues, we continue to celebrate our wins and look at the opportunities where we can improve.
The Gala Dinner
The night itself was amazing. For starters, it was my birthday and we kicked it off in our office with our pre-awards party. Celebrating with our family, friends and clients in true Precision style was a highlight. With everyone spilling out of the office and into the street, wearing silly glasses our Make Accounting Great Again hats we were able to let our hair down and thank them for their loyalty and support. The 28th July was also White Ribbon Night and we were proud to be able to support this program so publicly not just by wearing our ribbons throughout the night but by providing ribbons for the packed house at Belmont 16's.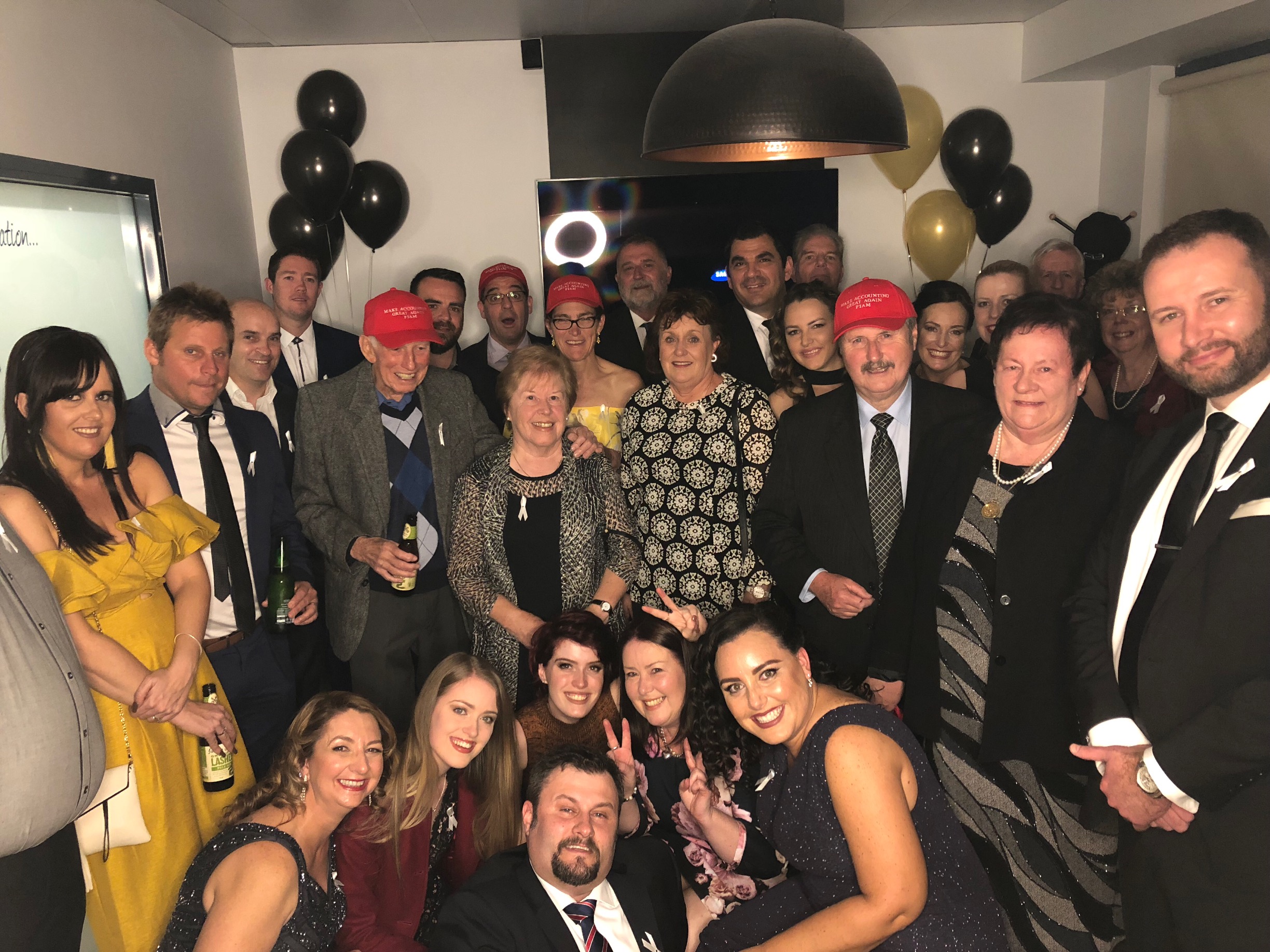 It is times like these that make the hard work seem worthwhile.
In typical Precision style, we documented the night on Social Media, the good, the bad and the ugly.  The pics don't lie (at least ones that we have shown you) we had an awesome night!
The Gala Dinner once again proved why the Lake Macquarie Business community is so special. There exists a mutual respect and admiration for other businesses and business owners in Lake Macquarie that doesn't seem to exist to this extent in other communities. You only need to see the mutual love and respect shown on Social Media by the business community to know this is a fact. All you need to do is to check out #LMBEA on any social media platform.
This is so even amongst those businesses in direct competition. Rather than feeling dejected at not winning a category, I found myself cheering loudly for the winner and saying things like "they truly deserve that win" or "yeah they do make great waffles". This may run against the competitive spirit but I do find it a great part of the LMBEA process. Perhaps it's the accountant in me wanting to always support, encourage and be the cheerleader for our clients and anyone willing to show the entrepreneurial spirit, or perhaps it's the knowledge that as a fellow business owner there is a shared understanding that there are many struggles that all combine behind the scenes to make up the final product ready for public consumption.
Winning awards for Excellence In Customer Service, Excellence in Digital Technology and Business of The Year are huge achievements for any business. It is amazing to think that less than five years ago we didn't even exist. I guess we embraced the struggle. The public response has been overwhelming. We honestly don't know how the Kardashian's do it! We are so grateful and humbled by all the kind words and support received.

I have been asked by many fellow business owners following the awards "what does it take to win the business of the year". Well, to be honest, the reality of the win is still sinking in.
But maybe it's this, I think it is the acceptance that there is no finish line. It is having the need to continually improve each day. It's saying close enough is not good enough. It is the acceptance that a failure is just another opportunity to revise your strategy and an acknowledgement that there is plenty of work still to be done.
On the Tuesday following the awards night, still riding high from our wins, Kelly and I attended an industry technology event in Sydney. This particular Tuesday was Kelly's birthday. And I think if anyone was deserving of a day off after the weekend's success, it was her. An accounting conference is after all not everyone's idea of the ideal birthday. We may have won Excellence Digital Technology and Excellence in Customer Service just three nights earlier. However, the Precision style is getting straight back in the game to look for improvements in how we do things and how we can help our customers.
Maybe this commitment is why we won those awards?
On our return trip from Sydney, we were stuck on the freeway for four hours behind a traffic incident. Again, in typical Precision style, we took this as an opportunity. We broke out the laptops for an impromptu business development meeting and used the time to refine our strategy for the coming twelve months and complete a deep dive into how we can be better.
It wasn't the birthday Kelly deserved, but maybe examples like this commitment to always improve are why we won the business of the year?
Will we be entering the awards next year? We don't know.
There are many lessons to be learned from 2018 and many areas to improve. Either way, we will be getting the questions for the 2019 awards once they are released and using the process as an opportunity to improve the business.
At Precision "we tell it like it is" and "we don't sugar coat it". So whether we enter or don't, this will not be a reflection of the awards themselves but a reflection on where we see our level of excellence and whether we are indeed excellent enough to compete. We have a lot to back up now and prove we are the best at what we do.
Onwards and upwards.