Working from Home (WFH) is not new to me. I have been working from home on and off for the last five years. However, over the previous two years, this has been more regular. Currently, about 40% of my hours are worked at home.
Some people love it and wish it was their new normal (maybe it will be post COVID-19), while others, it's just not for them. It is also a test of trust for the business owner and pressure on the employee trying to prove to their employer and colleagues that they are working, they are productive and that they can be trusted.
I want to talk about some of the benefits of WFH, the struggles of WFH, a few tips that have helped me including your home office set-up and how to find balance and disconnect when work and home are the same.
Firstly, let's look at some of the benefits
There is the obvious benefit of not having to drive into work and trying to find a park.
Your workspace can be set up the way you want. You don't have the restrictions of things having to be the corporate colours and the corporate furniture.
You can dress a little more casual, ladies you don't have to wear your heels every day. Be mindful of video meetings as you still want to come across as professional, so don't stay in your pj's all day.
There are no office distractions so you can maintain a better focus and are also a little more productive. You don't have to worry about someone turning down the aircon when you are sitting there freezing or signing for a delivery right in the middle of intricate work.
You may be able to complete some of your weekend to-dos during the week. I am not talking about completing a kitchen renovation but perhaps mowing the lawn or cleaning out a cupboard, allowing for additional quality family time on the weekend. At the moment with isolation, social distancing and homeschooling, you have probably had enough time with the family.
Flexibility is probably the most significant benefit but also varies the most between employers. For example, depending on the type of role you perform and your employer, you may have flexibility over your hours, e.g. when you start or finish.
Struggles when Working from Home
If you have been homeschooling kids recently, then we all know that the struggle is real.
When working from home, a lack of motivation can set in, then comes boredom and distraction. Getting motivated can be hard at the best of times, but when WFH, the will power not to finish watching Tiger King on Netflix can seem like a real dilemma. Let's look at how you get your child to pack up their toys. It's usually 'pack up your toys, and then you can watch Bluey', why not use that same principle for yourself. Complete x number of tasks and then reward yourself.
You can lose your sense of time when WFH. When you are working flexible hours, time can get away from you, and you can miss calls or be late to video meetings if you have reminders set. Make sure that you still have some structure in your schedule; this includes times for breaks. Having post-it notes stuck to the bottom of your monitor with your important meetings and times for the day can be helpful, the aim is to remove all of these by the end of the day.
Taking time for breaks has been my number 1 struggle the whole time I have been working from home. I just get stuck into a task and keep moving on to the next one. Even if I have scheduled time in for a break, when that time comes up and I say to myself 'I don't need a break at the moment' I keep working and then it is hours later before I realise 'oh I haven't had a break yet'.
I have been focused on fixing this over the last 12 months, and using my Apple Watch for the stand notifications has helped. Other simple things such as bringing in the garbage bins once they are emptied and checking the letterbox as soon as the postie has been instead of leaving it till the end of the day.
Watching Dr Phil at lunch on the TV. This show starts at 12 so if I am going to watch the episode from the start I need to start my lunch break at 12. Now, this isn't to say I am a massive Dr Phil fan, but it does tie me into a time to stop and have that break. With all the Government Stimulus packages and JobKeeper announcements, I probably could have been a guest on Dr Phil. Watch this little video to gain a small understanding of what Accountants & Bookkeepers had to go through with the JobKeeper Package!
Another struggle is knowing when you can discuss with your manager or team tasks you are working on, ask questions and get feedback. Having a clear communication plan is vital in how you can overcome this. The communication plan needs to be flexible enough that if something comes up; it can change but also routine enough that it isn't changing all the time, and the team can rely on it. The plan includes how you will communicate, when you will do this, and when you are available etc. For most parents who have been home-schooling and WFH, this may mean that you are only available for discussions during certain times of the day. The key with this is communication; no-one will mind if someone will be late to a meeting or needs to reschedule if they are informed.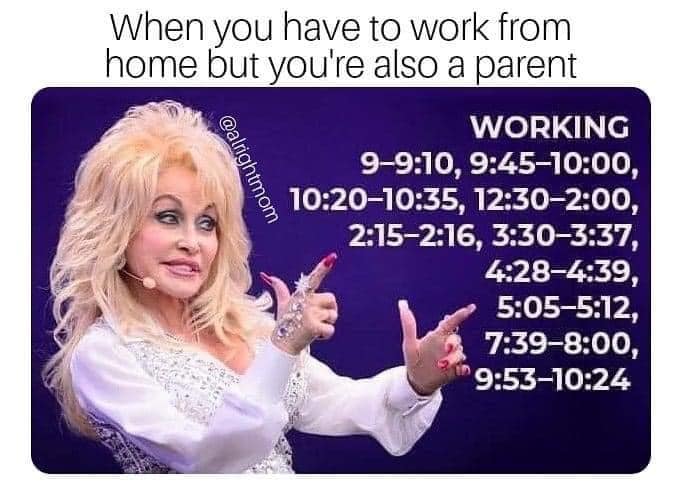 Tips & Home Office Set-up
Right now, I have a dedicated office space, but it wasn't always this way. I worked from the lounge the dining table anywhere that worked at that time. Having a dedicated office space to WFH makes all the difference, however, if this is not possible; it is crucial to be able to have an area in your home that you can set-up and pack away. What do I mean by this? Think of it like at school, uni or TAFE, you brought with you what you needed for day or subject and packed it away again when you finished for the day. If you have a laptop and a second monitor, pens, paper, or calculator use a tray, box or trolley to keep this stuff in so you can clear off the dining table each day. It only takes a few minutes, but it helps keep WFH separate from home.
Depending on your WFH space and your budget, consider purchasing an ergonomic chair as you may be spending quite a bit of time in it. Need your monitor higher, a ream of paper can come in handy to help with this. Ensure that you have adequate lighting in your space. Light helps with your mood and motivation. Wherever your WFH area is, power points will be essential; this may be for a laptop charger, monitor or merely charging your mobile phone.
Ensure that you have all the tools you require to do your job. Think about what you used in your workplace, is this needed for you to do your job and do you need it at home or is there an alternative, e.g. a Printer, do you need to print or can you save directly into your workplace document system.
You may include a couple of extra tools; for instance, I could just work off my laptop. However, as I have a dedicated office space, I have set my desk up, similar to my workplace with a bracket holding two additional monitors.
As I mentioned earlier, having breaks are essential. Incorporate some form of stretching or activity in your break. You could annoy and embarrass your kids and become TikTok famous by doing the Renegade, Savage or The Drip.
Lastly, even with flexibility, a routine is essential.
Balance & Disconnect
Trying to maintain balance while WFH can be hard, however, having a routine and a WFH space that you can shut the door or pack up when you have finished for the day/week will help. Maintaining a routine similar to if you were going into your workplace will assist in keeping your mindset of Home & Work separate.
Make sure you disconnect from work while you are not working. Don't look at and respond to work emails while on the lounge watching a movie. Utilise Do Not Disturb features on your phone and applications, turn off notifications and set out of office replies where necessary.
Working from home can be great, but you still need some structure. One good thing that has come out of the COVID-19 situation with more people WFH and homeschooling; managers, teammates and customers are a lot more understanding of the realities of working from home.